Contributions through products
Assurance of food safety
As a food company, we at the Calbee Group believe that offering safe, reliable products is one of our most important social responsibilities. We conduct thorough quality management in compliance with international standards for food safety system certification, to strengthen our systems for quality assurance across the entire supply chain from our production areas to customers. Furthermore, we are consistently tuned in to customer feedback and utilize the comments we receive to make improvements while communicating to customers about these efforts. In doing so, we all work as a team to deliver products that satisfy customers and gain their trust so that they will be more inclined to buy from us again.
Priority Themes
Prevention safety and quality incidents
Acquiring and complying with the international standard FSSC2200
Based on the FSSC22000 international standards for food safety system certification we utilize the HACCP system, set out our hazard analysis and control methods, and observe the state of our operations through internal audits and regular audits. When installing new equipment, we also act preemptively to eliminate risks by canvassing the production site beforehand and performing hazard analyses. FSSC22000 certification has been obtained for 13 Calbee Group factories in Japan.
AAO Activities
In the past, Calbee experienced a product contamination incident and responded with a large-scale product recall. In order to never repeat this mistake, we conduct Companywide activities aimed at providing customers with safe (Anzen), reliable (Anshin), and delicious (Oishii) products.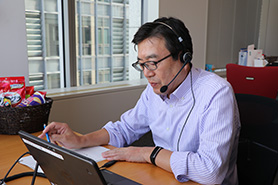 President Ito listening to customer feedback
Building the framework for providing safe and reliable products
We have implemented various initiatives to ensure that the products we provide to our customers are safe and reliable, including X-rays and metal detectors to prevent contamination, and surveillance cameras at our manufacturing sites. Additionally, in order to prevent mistakes on lists of ingredients in some of our packaging processes we have installed an error prevention checking system in our domestic production lines which checks whether the product content matches its packaging.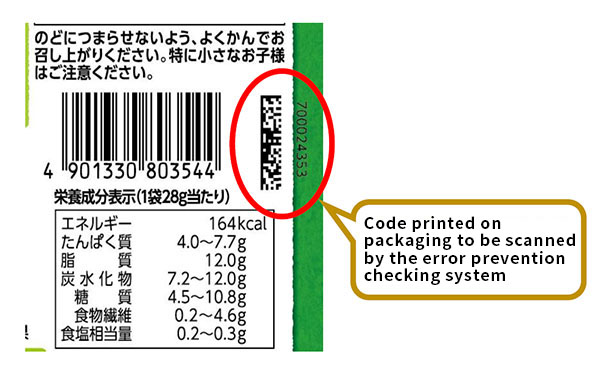 Error prevention checking system
Quality control support for overseas Group companies and overseas suppliers
The Quality Assurance Division and Overseas Company work together to strengthen the quality assurance systems of overseas Group companies and factories of alliance partners. For overseas Group company factories, we deploy our quality assurance practices from Japan by implementing food sanitation audits based on the Calbee Group Food Hygiene Standard. Since each country has its own rules such as import and export regulations and package labeling requirements, we are arranging our organizational capabilities to follow up on product strategies according to the realities in those locations. We conduct introductory screenings locally when choosing new overseas suppliers. When they fail to meet our quality requirements we offer guidance for improvements, and if they still cannot improve we do not select them. We also assign priorities when using raw ingredients that are sourced overseas and conduct regular audits, establishing systems that can assure quality starting with the raw ingredients. In response to the COVID-19 pandemic, we conducted audits of overseas Group companies via remote audit in the fiscal year ended March 31, 2021.
Actions Against Residual Pesticides
To ensure the safety of raw ingredients we manage the pesticides at farms to ensure that the appropriate ones are used, and we also conduct residual pesticide tests according to our own in-house criteria.

Initiatives for monitoring security
Measures in Response to Food Allergies, etc.
Reducing risks associated with food allergies is an issue to which a food manufacturing company must give its full attention. We thoroughly clean our production lines to ensure that our products do not become contaminated with allergens. As we continue our efforts to display allergen contents on product packages in a way that is clear and easy to understand, we are now also displaying this information for some products on our website. We will be adding information for more products.
Materiality
Contributions through products

Contributions through the supply chain

Contributions to the global environment and local communities

Establishment of management base