Contributions through the supply chain
Ensuring the sustainability of raw materials and logistics with improved efficiency
The Calbee Group delivers products to customers through supply chains that start with raw ingredient procurement and progress through product planning, production, logistics and sales. However, there are numerous risks that threaten our supply chains. Procurement can be disrupted by climate change, natural disasters, pandemics, and changes in world affairs, while logistics can run into problems with labor shortages, increased concern over working conditions, and more. The Calbee Group aims to secure stable raw ingredient procurement and logistics by working together with stakeholders involved in its supply chains to properly address risks and improve productivity in our supply chains.
Targets (KPI) and Results
Targets and Progress
Certified palm oil
Targets

CY2030

100%
use of certified palm oil

Results

FY2021/3
Bidding for and purchasing credits through Book & Claim (B&C)
Purchased

100% equivalent of palm oil used per year

* Equivalent amount of palm oil used per year as cooking oil for deep frying, etc.
Priority Themes
Sustainable procurement that respects the environment and human rights
Sustainable, environmentally conscious procurement: 100% use of certified palm oil
Palm oil is a collective term for oil that comes from the fruit of oil palm trees. It is the world's most widely produced vegetable oil and used as an edible oil and as an ingredient for margarine, shortening, and soaps. Environmental destruction resulting from oil palm plantation development such as deforestation and biodiversity loss has been problematized. In addition, human rights violations derived from forced labor and child labor exploitation in the industry have been identified as serious social issues. The Calbee Group uses palm oil as a cooking oil primarily for the frying process and procures approximately 40,000 tons per year. With the aim of using only 100% certified palm oil by 2030, the Group has been making preparations in stages to meet the target.
・January 2020: The Calbee Group joined the Roundtable on Sustainable Palm Oil (RSPO)*1.
・May 2020: The Calbee Group started purchasing RSPO Credits that are equivalent to the amount of palm oil used by its domestic factories through the Book and Claim system*2.
・July 2021: The Calbee Group started purchasing RSPO-certified palm oil (through the Mass Balance system*3) for its group factories.
*1

RSPO is the abbreviated name of the Roundtable on Sustainable Palm Oil, a non-profit membership organization established by WWF (World Wide Fund for Nature) and stakeholders related to the palm oil industry (manufacturers, retailers, environmental organizations, etc.)

*2

Book and Claim system: A system in which RSPO Credits are traded online between palm oil producers and end-product manufacturers / sellers. The production of RSPO-certified palm oil is supported through this system under which certified palm oil producers are supported by end-users who purchase RSPO Credits based on the volume of certified palm oil produced.

*3

Mass Balance system: A certification model in which certified palm oil is mixed with non-certified palm oil in the supply chain. Certified palm oil physically contains non-certified palm oil, but the volume of certified palm oil supplied by certified plantations is guaranteed.
Procuring sustainable paper
Deforestation and depletion are worldwide problems. Some wood chips used as raw materials to make paper have been obtained through practices such as illegal logging. It is important for companies to choose paper that is sourced from properly managed forests. For product shipments, Calbee, Inc. has switched to cardboard boxes made from FSC®-certified paper, and we display the certification mark on the surface of the boxes. We will also be sequentially expanding our usage of FSC®-certified paper to products that come in cartons. FSC®-certified paper has been used for Jaga Pokkuru since the end of March 2021.
* FSC® (Forest Stewardship Council®): An independent non-profit organization that promotes the global spread of responsible forest management and operates an international forest management certification program.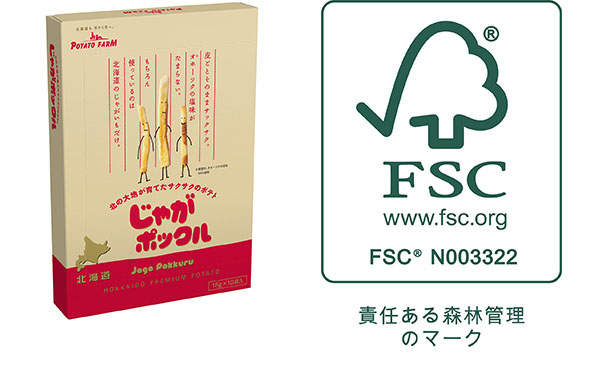 FSC® certification mark on Jaga Pokkuru
Materiality
Contributions through products

Contributions through the supply chain

Contributions to the global environment and local communities

Establishment of management base