Contributions through the supply chain
Progress of sustainable agriculture
As a maker of products focused on natural ingredients such as potatoes, the Calbee Group believes agriculture must always be soundly managed. With consumption of domestically produced potatoes on a downswing, Calbee is devising new ways to utilize these potatoes to expand consumption, while also striving to sustain and stimulate domestic agriculture itself. In response to the current problems such as declining harvests and diminishing quality resulting from climate change and labor shortages in agriculture, we will leverage our own technologies to improve productivity in agriculture, while also developing new products and supporting programs for farming.
Targets (KPI) and Results
Targets and Progress
Domestic procurement volume of potatoes
Targets

FY2024/3

400,000
tons

(up 20% vs. FY2019/3)

Results

FY2021/3

342,000
tons
Priority Themes
Sustainable, environmentally conscious procurement: Stable procurement of potatoes
Developing new products for disease resistance and in response to climate change
The biggest risks we face in procurement are natural disasters exacerbated by climate change and the spread of pests and other invasive disturbances. In response, we have collaborated with research institutions at home and abroad to develop new potato varieties. The Poroshiri variety registered as a new proprietary variety by the Calbee Group in 2015 is more pest-resistant than existing varieties and is expected to produce larger harvests, showing great promise for more widespread use. We will continue working to improve our technologies and generate new varieties.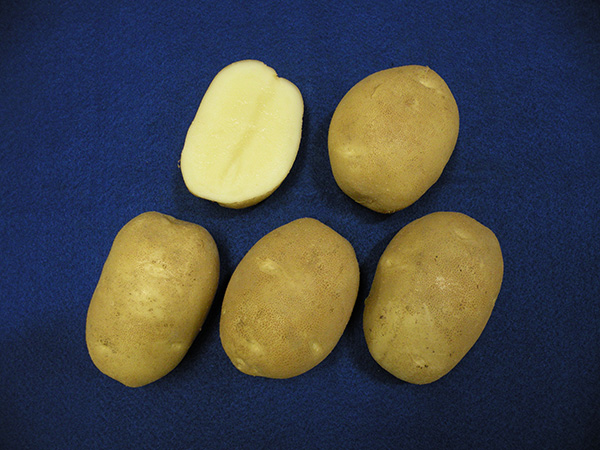 The Poroshiri is registered as a new variety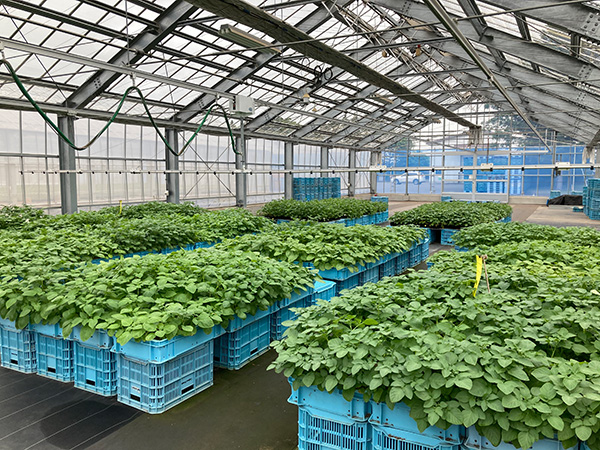 Developing varieties at the Potato Research Center (Hokkaido)
Practicing agriculture based on scientific facts
Fertilizer is essential for increasing potato yields. Fields each have their own unique soil properties and histories. Applying the right fertilizer for each field is essential in bringing out their potential. At the Calbee Group we perform soil analyses on fields in each different area, based on which we review and propose the appropriate fertilizers. While this helps to maximize potato yields it also prevents overuse of fertilizers in the environment and reduces the environmental impact of our activities.
Expanding and supporting the business of contractors
The farming population in Japan is decreasing each year. With a low food self-sufficiency rate of 38% calculated on a calorie basis, finding more farmers is a pressing concern. Farmer incomes must also be stabilized, and workloads reduced in order to attract the farmers needed.
Potatoes are a particularly labor-intensive crop. The Calbee Group has provided a broad range of cultivation and harvesting support to reduce the workload of contract farmers. One form of such support is our contractor business. Utilizing large machinery to handle the most strenuous harvesting tasks on behalf of farmers, we are reducing labor while simultaneously expanding planted acreage of potatoes. We will continue our contractor business and promote the practice of sustainable agriculture by supporting contracted farmers.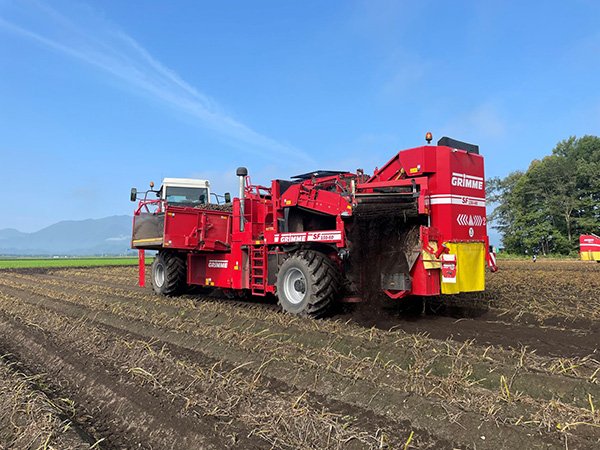 Large machinery used in our contractor business
Expanding farming areas
Torrential rains and typhoons are increasing in severity each year due to climate change. The potato harvest in Hokkaido was severely impacted by the typhoon that struck in 2016. With an awareness of the risks that climate change poses to procurement, the Calbee Group is making efforts to expand our farming areas in Hokkaido and develop new potato production land in places such as Tohoku and Kitakyushu.
Materiality
Contributions through products

Contributions through the supply chain

Contributions to the global environment and local communities

Establishment of management base