Contributions to the global environment and local communities
Caring for the earth
Business conducted by the Calbee Group is largely supported by natural ingredients provided by the earth. To maintain the balance between our business activities and the abundance of earth's natural environment, we are actively engaged in environmental issues to prevent global warming and create a resource recycling-based society. We are working toward a decarbonized society by reducing our greenhouse gas emissions. We are also advancing efforts to reduce food loss and water usage, take action against the overuse of plastic, and make effective use of earth's limited resources, while striving toward the creation of a resource recycling-based society. The Calbee Group aims to realize a sustainable natural environment while working together with our stakeholders involved in raw ingredient procurement, logistics, and distribution.
Targets (KPI) and Results
Targets and Progress
Total greenhouse gas emissions
Targets

CY2030

30%
reduction

(vs. FY2019/3)

Results

FY2021/3

0.6%
increase

(Scope 1: 2.3% reduction
 Scope 2: 17.3% reduction
 Scope 3: 4.7% increase)
(vs. FY2019/3)
Product food loss
Targets

FY2024/3

20%
reduction

(vs. FY2019/3)

Results

FY2021/3

74%
increase

(vs. FY2019/3)

* Worsened due to disposal of expired souvenir food products resulting from the COVID-19 pandemic and unacceptable quality of raw ingredients
Total water consumption
Targets

CY2030

10%
reduction

(vs. FY2019/3)

Results

FY2021/3

6.5%
increase

(vs. FY2019/3)

* Increased water usage due to worsened quality of raw ingredients and increased production volume
Waste reduction amount
Targets

CY2030

10%
reduction

(vs. FY2019/3)

Results

FY2021/3

4.3%
reduction

(vs. FY2019/3)
Replacement or reduction of plastic containers
Targets

CY2030

Environmentally considerate material use 50%

CY2050

Environmentally considerate material use100%

Results

FY2021/3

Capital participation in R Plus Japan, Ltd.

* R Plus Japan: A company that handles the development and practical application of technologies to recycle used plastics
Overview of Business Activities and Environmental Impacts in FY2021/3
(Target organizations: Domestic Group Companies)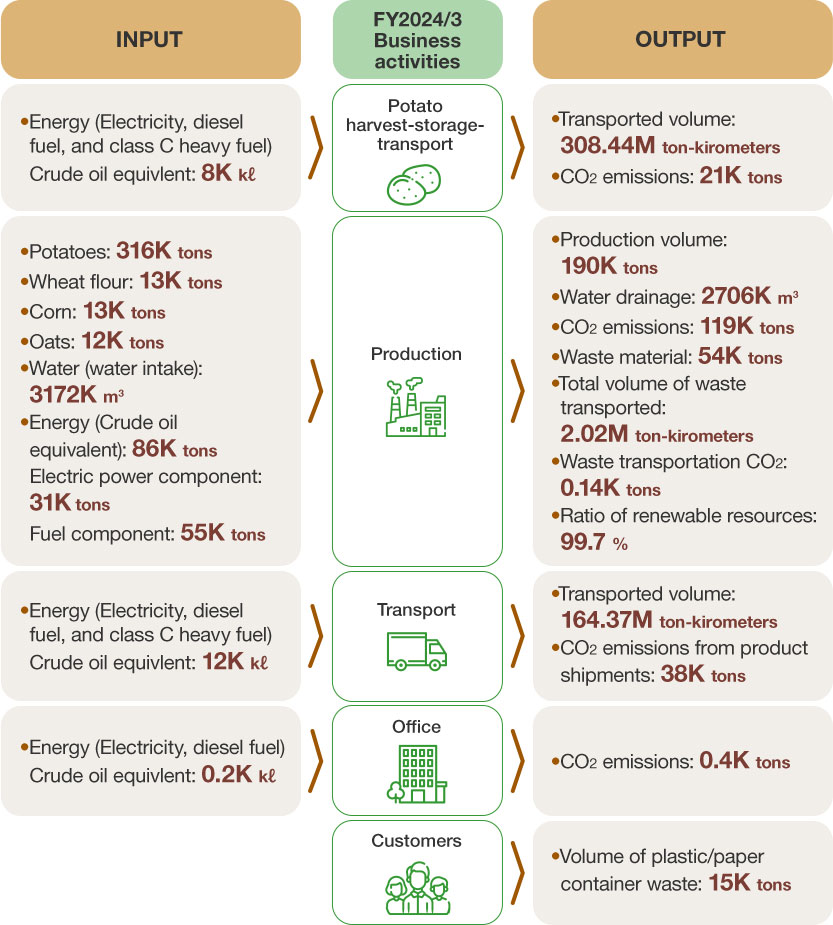 Priority Themes
Reduction of greenhouse gas emissions
Reduction from switching energies used
The Calbee Group is working to reduce its greenhouse gas (GHG) emissions to help mitigate climate change. Since FY2019 we have switched to CO2-free electric power from renewable sources such as hydroelectric and solar power, and purchased carbon offset power through the J-Credit Scheme*1 and power tied to conventional non-fossil fuel energy certificates*2 (started at five locations in the Kanto suburbs such as the Shimotsuma Factory and Japan Frito-Lay, Ltd. Koga Factory in FY2019, at the Hokkaido and Kagoshima Factories in FY2020, and the Kakamigahara Factory, Konan Factory, Kyoto Factory, Hiroshima Factory and Hiroshimanishi Factory in FY2021). Starting in FY2019, factories in the Utsunomiya area have also been participating in integrated inter-factory energy conservation projects through the Kiyohara Smart Energy Center, in collaboration with other nearby companies. The shared usage scheme for the power and heat generated at the center resulted in roughly a 16% CO2 emissions reduction*3 in FY2020. The Calbee Group will continue pursuing further energy savings, while contributing to lower greenhouse gas emissions and the spread of renewable energy.
*1

J-Credit:A scheme wherein through efforts to introduce energy-saving devices, utilize renewable energy, and manage forests appropriately, the Japanese government certifies the amount of greenhouse gas emissions such as CO2 reduced or removed as "credits"

*2

Non-fossil fuel energy certificates: A system to certify energy generated from renewable energy sources that do not use fossil fuels such as petroleum and coal, in order to be traded as environmental value on the market

*3

Reduction rate against total CO2 emissions at the seven business sites of the three companies (Calbee, Canon, and Hisamitsu Pharmaceutical) in the fiscal year ended March 31, 2016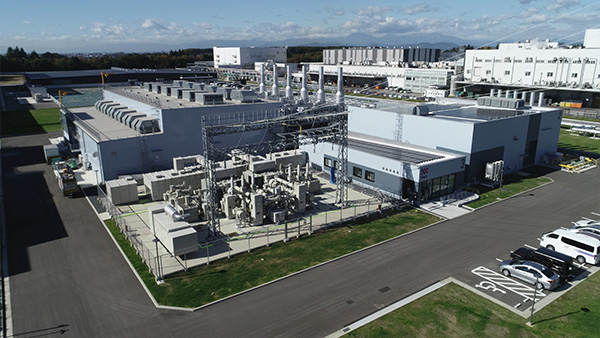 Kiyohara Smart Energy Center
CO2 reductions through product size changes
In September 2020, Calbee reduced the width of the packaging film of 12 regular size potato chips products (60 g, 58 g) by 20 mm (width: 200 mm to 180 mm, height: 230 mm to 260 mm). Since this allows us to use smaller cardboard boxes when shipping the products, we were able to reduce cardboard usage while improving the loading efficiency of our trucks. We expect this to reduce our CO2 emissions from manufacturing cardboard boxes by around 11% from current levels. We also anticipate being able to use roughly 9% less trucks. This change is also being applied in stages to other products including Gizagiza Potato, as we continue striving to reduce the CO2 emissions from our transport operations.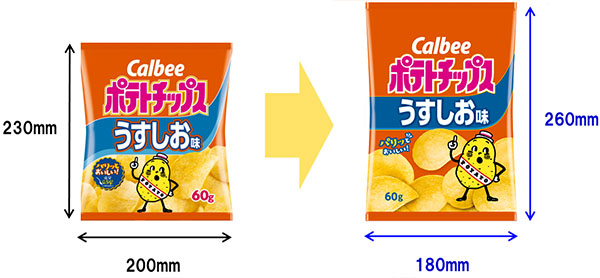 Potato chips products with changed sizes to reduce CO2 emissions
Protection of resources and realization of a recycling-oriented society
Reducing food loss (extending expiration dates)
Calbee has made efforts to extend expiration dates in a phased manner in order to reduce food loss from disposal of expired products. These efforts were expanded to include Potato Chips Crisp and Potato Chips in FY2019, and Jagabee, Jagarico, and Vegetable Snack in FY2020. This has helped reduce food losses caused by products delivered by Calbee to business partners past their delivery dates.
However, food loss far exceeded our target in FY2020 due to waste resulting from declining sales of souvenir food products during the COVID-19 pandemic and from unacceptable quality of raw ingredients, as well as product reclamations due to problems with ingredients not being properly displayed on products. We will continue our efforts to address these issues and reduce food loss.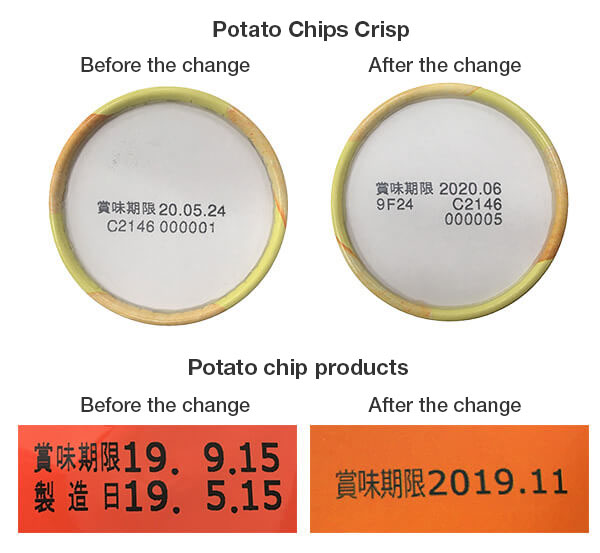 Examples of extended expiration dates
Promote the "3Rs"
The Calbee Group conducts waste sorting, curtails its total volume of generated waste, and converts leftover food residue into feed. These initiatives compose the main pillars of the Group's zero emission, and recycling strategies, which are geared toward achieving a recycling society. Through adherence to the "3Rs" (reduce, reuse, and recycle), we have achieved a recycling. Efforts in FY2020 particularly focused on reducing raw loss* and moisture content including sludge, resulting in a clear reduction of waste volume. Recycling rate for FY2020 was 99.6%.
* Raw loss: Collectively refers to potato peels and scraps which cannot be used in products
Changes in total waste volume over time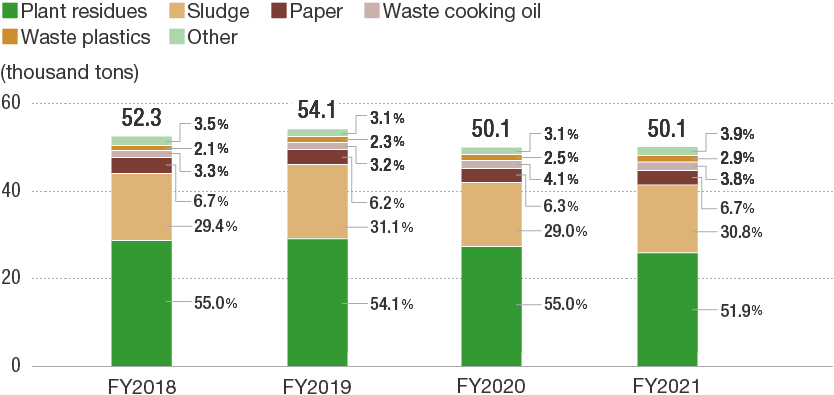 Replacement or reduction of plastic containers
Reduce petroleum-based plastic packaging
Based on the milestones incorporated in the Resource Circulation Strategy for Plastics published by the Japanese government in May 2019, Calbee has set plastics recycling goals for 2030 and 2050. We are switching sequentially to biomass PET* and biomass ink for the packaging materials that we use in stand up pouch packaged products.
Also, in FY 2021 we acquired an ownership stake in R Plus Japan, Ltd., which aims to establish resource recycling schemes for used plastics. R Plus Japan develops technologies for efficient plastic recycling with low environmental impact. Calbee will be pushing forward with initiatives to overcome marine plastic waste problems and establish plastic recycling schemes by switching to more eco-friendly materials.
* Biomass PET: A type of plastic devised to reduce environmental impact with polyethylene terephthalate (PET) resins that replace some petroleum-based plastics with plant-based materials.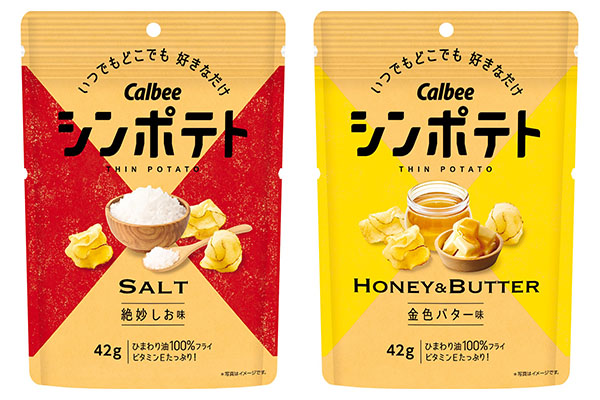 Shin Potato products use biomass PET
Materiality
Contributions through products

Contributions through the supply chain

Contributions to the global environment and local communities

Establishment of management base