Promote diversity and inclusion
Based on the belief that Calbee cannot grow without the active participation of women, we have focused on promoting the active participation of women, which account for approximately half of our employees, as a top-priority issue for diversity management. We aim to establish diversity management that addresses gender in addition to the topics below, and creates an organization and culture with awareness that everyone has unconscious bias and the common theme that everyone has equal opportunities. All of our diverse employees should thus be able to harness their capabilities in their own unique way while producing results for the company and organization.
Common topics for promoting diversity & inclusion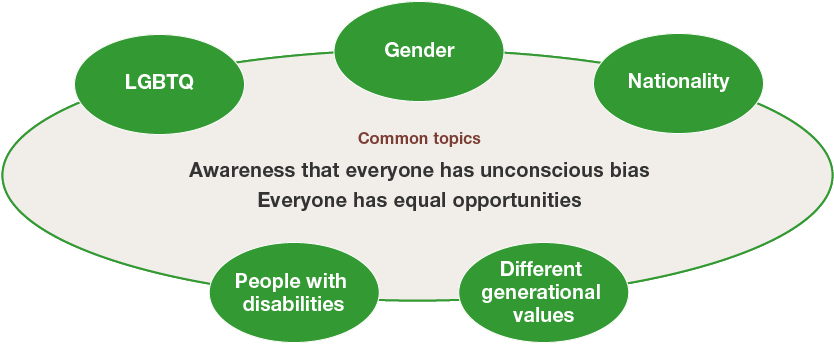 Major Measures
Promotion Framework
The department specializing in diversity & inclusion (D&I) was established and began full-scale operations in 2010. Currently the D&I/Smart Work Promotion Department is working on this together with the appointed coordinators at each business entity (including affiliates). In addition to implementing company-wide activity measures, we are also taking actions to solve problems and raise penetration level at each business location.
Organization Framework
Promotion of Female Employee's Activities
Females comprise roughly half of all Calbee employees. We also aim to raise our ratio of female managers to around the same level as our ratio of female employees. We have set the target of raising our female manager ratio to over 30% by the fiscal year ending March 31, 2024. At the same time, we have also set goals which we are now working toward for the promotion and hiring of female directors. Under the leadership of top management, we are promoting female employees systematically and continuously. Including various training sessions and workshops, we are improving the working environment from the perspective of our female employees.
Female manager ratio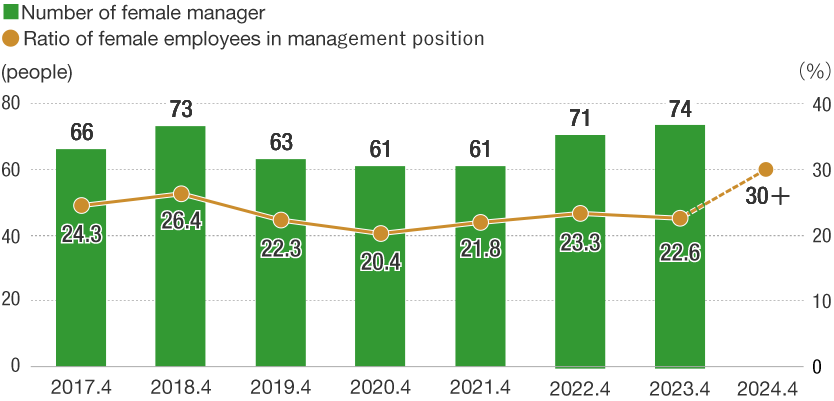 Initiatives to support active participation of women
| for | Program description |
| --- | --- |
| Younger females | Consider possibilities for their own careers by socializing with other women from the same generation and by learning from various role models |
| Leader candidates | Nurtures leadership ambition and the mentality to confront and overcome requirements and challenges in their future careers, in order to forge their ideal careers without sacrificing life events |
| Returning from childcare leave | Hearing the experiences of senior employees and working together with superiors to acquire specific expertise and forge the mindset take on their jobs and careers with a high degree of professionalism, while at the same time balancing work with parenting |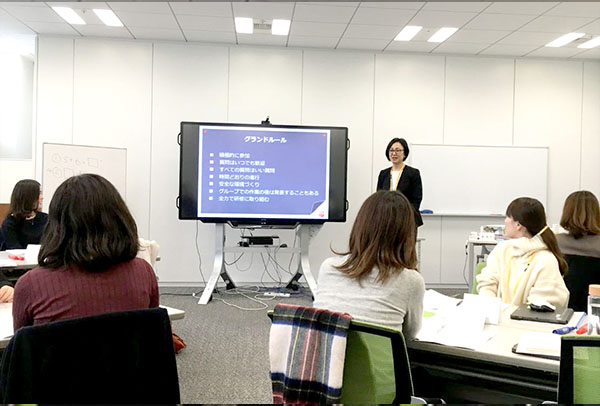 Photo: Female candidates for leadership roles in training
Promoting the active participation of diverse human resources
Turning differences in values into organizational strength
We believe it is important for employees to have chances to learn about the differences between their own values and experiences and those of others. That can make us a company of diverse employees who harness their abilities to drive the competitive strength of the company. During fiscal 2020 we held an e-leaning session to give managers an opportunity to learn about unconscious bias. Dialogues in the everyday workplace are also deepening mutual understanding and accelerating inclusion.
Encouraging employment of people with disabilities
In 2007, we established special subsidiary Calbee Eatalk Co., Ltd., with the aim of creating a company where diverse human resources can play an active role regardless of gender nationality, age and the existence or absence of disabilities. Calbee Eatalk is an employment office used by a large number of people with severe disabilities, whose main activity is the packaging of souvenir products. In 2018, the East Japan Office was opened with the aim of expanding the scale of this business. Calbee and Calbee Eatalk had a combined 2.58% employment rate of disabled people in the fiscal year ended March 31, 2021. As we leverage the expertise of this special subsidiary, all companies in the Group will be working together to promote the hiring of employees with disabilities while broadening the scope in which they can actively contribute.
LGBTQ initiatives
Human rights are respected in the Calbee Group and discrimination or harassment based on sexual orientation or gender identity are not accepted, as spelled out in the Calbee Group Code of Conduct. Accordingly, we are dedicatedly working to establish workplaces where all employees can put their enthusiasm and energy into their work while being themselves. We have expanded the applicability of congratulatory and condolence leave and payments to same-sex partners of employees, while also conducting lectures and seminars by LGBTQ speakers and disseminating information to promote understanding through our intranet and in-house newsletters.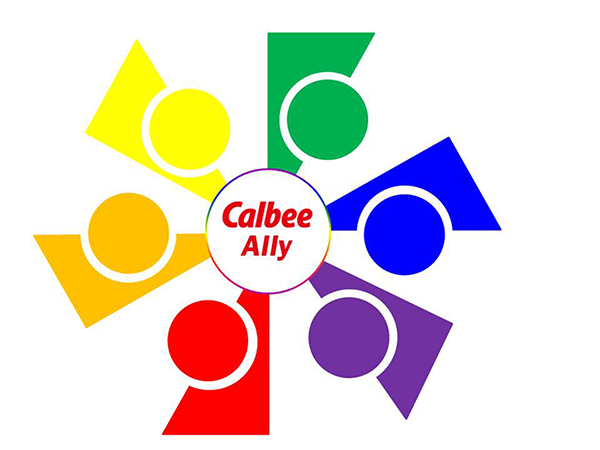 Supporting the active participation of diverse human resources
Support Systems to Encourage Active Participation
Main Systems
Details
Systems Supporting
Diverse Working Styles
Mobile work
From April 2014, operation launched with an upper limit of two times per week.
From April 2017, we removed limits on frequency. From July 2020, office workers are in principle mobile workers.
Return Entry
This system allows employees who resigned due to life events or other career opportunities who wish to rejoin Calbee priority in taking on their new challenge.
Flex time
Introduced in 1991. Employees can set their own arrival and departure times as well as their working hours. Core time (time in which employees must be at work) was eliminated from July 2020.
Half-day paid leave
Enables employees to apply take paid leave in half-day increments.
Systems Supporting
a Balance Between Family and Work
Childcare leave
Can be used up to the day before the child's second birthday.
*First five days of childcare are counted as paid leave.
Shortened working hours for childcare
The specified working hours per day is five hours or more, and working hours can be reduced in 30-minute increments. (Until child finishes third grade)
Spouse childbirth leave
Can be used continuously or divided over five days (paid) within six weeks before the expected date of delivery of the spouse (14 weeks before multiple pregnancies) within eight weeks after the date of delivery.
Child nursing leave
Up to 10 days a year can be obtained in half-day increments. (Until child finishes third grade)
Nursing care leave
Can be used consecutively within one year for one person requiring nursing care for a period approved by the Company.
Shortened working hours for nursing care
Specified working hours per day are six hours or more, and working hours can be reduced in 30-minute increments. (Up to two times in three years per person requiring nursing care)
Family nursing care leave
Up to 10 days per year, able to be used in half-day increments.
Systems to support active participation
by diverse human resources
LGBTQ-friendly systems* for congratulatory
and condolence leave and payments
To be applied to same-sex common-law marriage partners of employees.
* In addition to the above systems, Calbee subsidizes requisite expenses that occur at various life stages.
Expense subsidy examples
We offer a subsidy program for fertility treatments, an allowance for birth and childcare, a monetary expression of thanks for those to return to work early, a reserve for schoolchildren (reserve for fulltime work), congratulatory money when children enter elementary school, and a subsidy in the cafeteria plan (for childcare, long-term care, and the self-development menu).
Materiality
Contributions through products

Contributions through the supply chain

Contributions to the global environment and local communities

Establishment of management base