Establishment of management base
Promote active roles for all employees based on diversity
We believe that human resources are a key foundation supporting our value chain. The Calbee Group is evolving into an organization that leverages diversity so everyone can thrive and thereby generate innovation that supports the sustainable growth of the Group. To accomplish this, we are bolstering our human resources development to promote greater awareness of mutual acceptance between people with different values, and to encourage actual behavior change. We are establishing work environments geared toward life fulfillment and higher performance, creating positive work-life cycles that lead to job satisfaction for our employees.
Targets (KPI) and Results
Targets and Progress
Ratio of female managers
Targets

FY2024/3

Over 30%

Results

As of April 2021

21.8%
Ratio of male employees taking childcare leave
Rate of employment of people with disabilities
Activity Results
Ratio of taking annual paid leave


* Full-time employees

Overall ratio of employees undergoing health checkups
HR Strategy at the Calbee Group
Based on the foundation of organizational and human resources development for all employees to play active roles, the Calbee Group endeavors to develop what we call "strategic human resources." We encourage all employees to have a tenacious sense of ownership, and to think and act on their own initiative. At the same time, we have defined the Calbee Five Values expected of our human resources (initiative/altruism/dialogue/curiosity/challenge). Aiming to develop free-thinking professionals with highly cooperative attitudes, we are generating innovation in the medium to long-term, laying the path to continued growth for our company.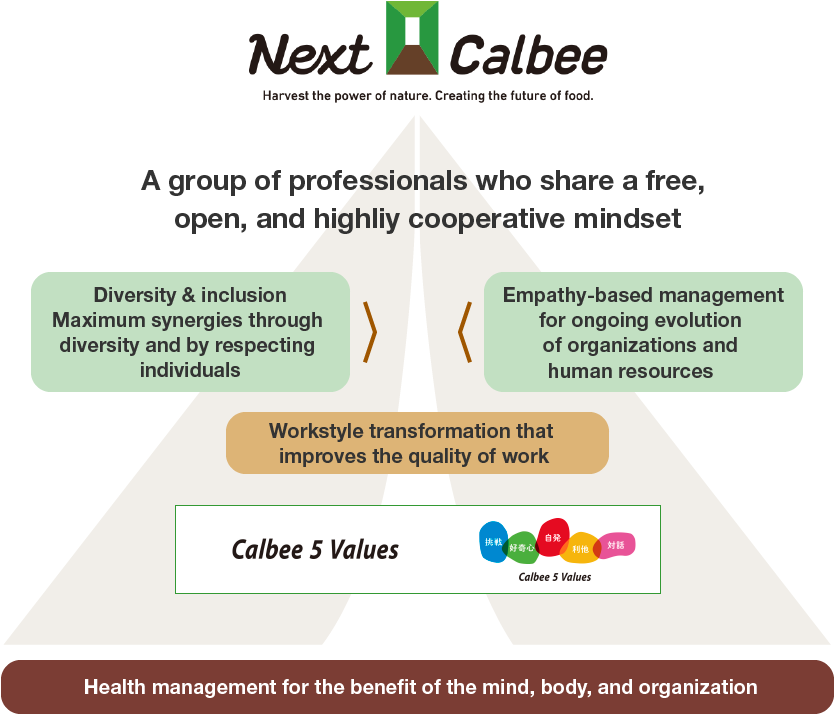 Priority Themes
Promote diversity and inclusion
We aim to establish diversity management, where diverse individuals have equal opportunities in the organization and leverage their own uniqueness while producing results for the company and organization.
Strengthening of human resource development
We are doubling our efforts toward practicing empathy-based management that encourages the ongoing evolution of organizations and human resources, and toward developing strategic human resources (management, global, and DX human resources) capable of navigating changes in the business climate to become the Next Calbee.
Workstyle transformation and health and productivity management
Starting with changing employee attitudes and behavior, we are transforming workstyles in a way that not only enables adjustments to work locations and times but also improves the quality of the work itself. At the same time, we also practice comprehensive Health and Productivity Management encompassing everything from the mental and physical health of employees to healthy communication within the organization.
Materiality
Contributions through products

Contributions through the supply chain

Contributions to the global environment and local communities

Establishment of management base