Contributions to the global environment and local communities
Foster deeper connections with people, local societies, and communities
As a food company, the Calbee Group builds stronger bonds with stakeholders in the areas of the environment (nature's gifts), food (flavor and fun), and health (healthy lifestyles), collaborating to maintain sustainable, abundant natural environments and thriving societies in communities and confront social problems such as relieving anxieties over people's ability to live healthy, prosperous lives. In order to promote healthy living, we also engage in dialogue with every generation through our "food communications" in which we share the enjoyment of food, accurate food-related knowledge, and the importance of a sound natural environment.
Targets (KPI) and Results
Targets and Progress
Food communications
Targets

FY2024/3
(5 year cumulative)

400,000
participants

Results

FY2021/3
(Cumulatively from FY2020 Onward)

107,714
participants
Activity Results
Number of participants in the Calbee Group's social contribution activities

FY2021/3

3,318
participants

Passed CSR Proficiency Test


Cumulatively:

Level 1:
1employee

Level 2: 15employees

Level 3:78employees

*As of August 2021
Deeper Food Communication through CSV
Food communication refers to food education activities and factory tours conducted by the Calbee Group, including Calbee Snack School and Asa-Hello-Shiyo! School (Let's make your own morning.). Based on the concept of "Joyously creating a future of food that brings excitement to everyone alive; Let's get excited!!" we will be helping customers of all generations to live healthy.

Priority Themes
Invigoration of food communications
Food education activities (Calbee Snack School and "Asa-Hello-Shiyo! School)
We conduct food communication activities nationwide to convey the correct knowledge and enjoyment of food through familiar snacks in line with our goal to "contribute to healthy lifestyles". Since 2003, we have held "Calbee Snack School", which aims to instill children with good eating habits and self-management skills. Since 2020, as a new food education program, we launched the "Asa-Hello-Shiyo! School (Let's make your own morning.)", which focuses on how to spend one's mornings.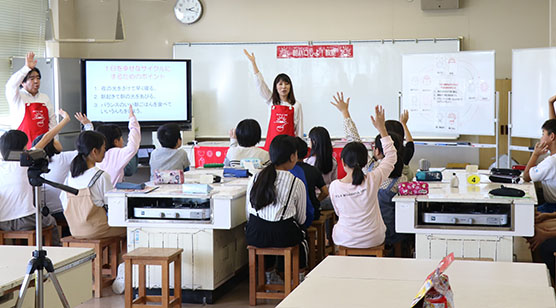 Asa-Hello-Shiyo! School
(Let's make your own morning.)
Factory Tours
The Calbee Group has proactively welcomed factory tours. The tours are now harder to conduct due to the COVID-19 pandemic, but in November 2020 we began offering online factory tours. These tours are available at our Kiyohara Factory, Hokkaido Factory, and Hiroshima Factory.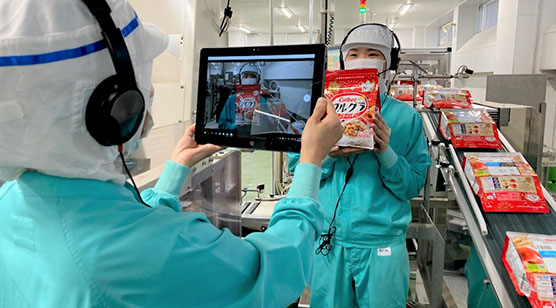 Online factory tours
Contributions to local societies
Forest Maintenance Activities for Water Development
Through the use of groundwater, the Calbee Group's factories reap the benefits of forests in areas with water sources. The Calbee Group engages in forest maintenance activities at Calbee Mina Mina Forest (Chitose, Hokkaido), Aichi Kaisho Forest (Seto, Aichi Prefecture), and Calbee Shiga Konze Forest (Ritto, Shiga Prefecture) with the aim of maintaining and improving our capability in sustainable water source development. Employees themselves perform the forest maintenance, allowing them to get directly reacquainted with the goodness of nature and ponder the responsibilities involved in the use of precious groundwater.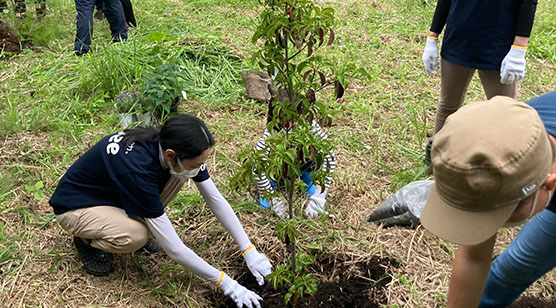 Forest maintenance activities at Calbee Mina Mina Forest
Response to the COVID-19 Pandemic
We are donating products to medical facilities, food banks, and single-parent family support organizations.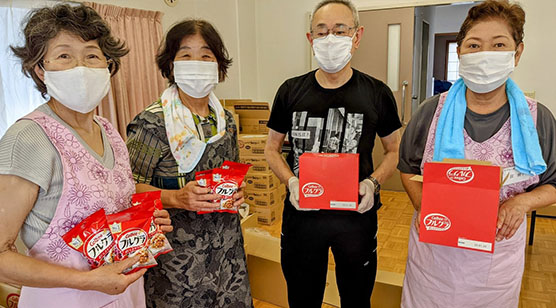 Product donations to medical facilities
Snacks Contest
Since 2011, Calbee has been organizing the Snacks Contest to gather new product ideas from children with the goal of teaching them the fun of development and manufacturing. The 10th edition of the contest held in the fiscal year ended March 31, 2021 brought in a total of 1,032 entries with the theme of "Healthy Products Made from Vegetables." In this contest, we decided to make a commercial product out of the first-place winning entry for the first time ever. The first-place winner "Coro Coro Vegetable" was subsequently produced and sold in limited quantities through Calbee's online shop and at directly operated stores.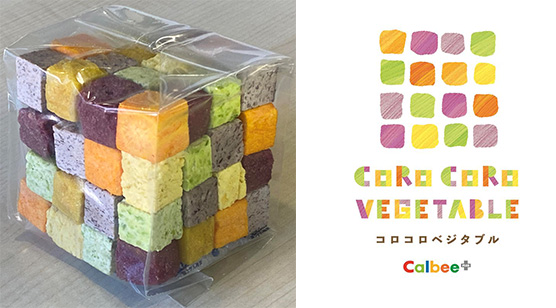 Coro Coro Vegetable
Support for Disaster-Affected Areas
In the 2011 Great East Japan Earthquake approximately 1,800 children are speculated to have lost parents. The MICHINOKU Future Fund was established to help children who lost one or both of their parents in the disaster to enter universities or receive technical education. Calbee is one of the companies which established The MICHINOKU Future Fund, and supporting the fund through various means, such as deducting contributions from salaries and conducting fundraising activities at events.
Calbee also delivered products and donations in support of Kumamoto Prefecture and Kuma Village when they were devastated by torrential rains in July 2020.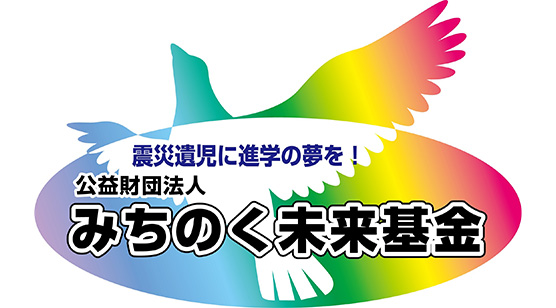 MICHINOKU Future Fund
Overseas social contribution activities
At Calbee Tanawat Co., Ltd., we gather social contribution ideas from employees and decide which of the ideas to implement. In the fiscal year ended March 31, 2021 we donated playground equipment to Baan Jaenlaen School in Yasothon Province which employees attended as children, with hope for the healthy physical and spiritual growth of the children in the community.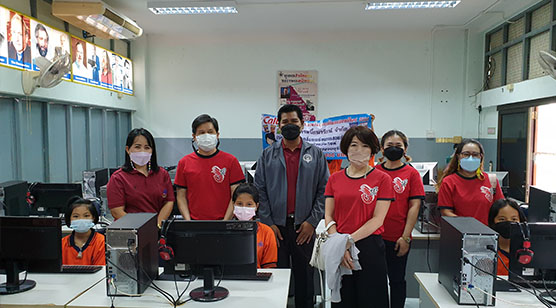 Donated playground equipment
Materiality
Contributions through products

Contributions through the supply chain

Contributions to the global environment and local communities

Establishment of management base